TUTORING SOFTWARE FOR BUSINESS MANAGEMENT SUCCESS
WHAT IS TUTORING SOFTWARE
Tutor software stores business information or data. It can be installed on a local pc or reside on the internet. More and more software companies are providing their tutoring software as a cloud-based platform. This means business owners, their staff and clients can access the software via the internet. While there are still examples of locally installed software platforms, that form of tutoring software is becoming less and less popular.
This article highlights the benefits and features of tutoring software that is cloud-based; meaning it is software that resides on the internet and business entities are required to log in to access its functions and data.
If you've never heard of tutoring software before, or you've contemplated using a tutoring software tool, we'll explain what it can do for you and how your business stands to benefit from it. Whenever possible, we'll use images to compare and contrast. We'll do whatever we can to help you make the most informed decision possible and answer any questions you may have.
A CLIENT TESTIMONIAL
For our employees, having Bizstim has eliminated having to visit multiple sites we were hodge podging together for different pieces of doing business.

Our ability to send our clients automatic post-session notes has been a plus to our employees, but also created a more professional image to our clients.

The ability to send both email and text reminders of appointments has greatly decreased our no-show and cancellation rates.
HOW CAN TUTORING SOFTWARE HELP MY BUSINESS?
Tutoring software helps businesses manage and streamline day-to-day operations. The best way to show how business operations are streamlined is to compare and contrast traditional methods with software methods.
Review the following:
automated e-mail reminders
e-mails sent out manually or not sent out at all because STUFF happens
all contact information in one place
contact information in multiple spreadsheets across several folders in different drives and notes strewn everywhere across multiple desks not all of which are located in the office
access through password protection
access electronic files, notes, napkins on a desk or personal computer or maybe a tablet or cell phone at a specific location in the office
automated backup in a secured environment
infrequent and incomplete copying of files across devices when someone remembers to do it but usually after a data failure occurs and a lot of clients are really pissed off
1 entry point for data protected by permissions and consistent processes
multiple speadsheets across multiple devices and haphazard processes that no one fully understands including the business owner who created them
receipt totals stored in a database
receipts in desks, envelopes, wallets, cars, empty bags... you get the picture!
client billing information saved in a database
client billing information that depends on contacting tutors for session information and hoping they remember correctly. Russian roulette anyone?
SCHEDULING AND APPOINTMENT BOOKING
scheduled sessions stored in a database for all to see
tutors, clients, and staff with incomplete scheduling information that may or may not contradict itself
well defined structure of reporting across services
no structure or structure that can't be enforced or easily checked for completion but having a hope and a prayer the tutor does a good job and cares about the quality of YOUR business
It's not hard to see how tutoring software can organize, manage and streamline a business. Medium to large tutoring businesses will find this type of tool absolutely essential. As a business expands it faces scaling issues, communication breakdowns, and difficulty maintaining service quality.
Even small tutoring companies must tackle these issues. To prevent headaches and problems during expansion, small businesses can recognize efficiencies by using tutoring software.
But the case for tutoring software goes even further.
Who doesn't like to be organized? Who doesn't want to have their business data protected and secure? Who doesn't want to be freed from mundane tasks so they can focus on the quality of their service and the satisfaction of their customers?
Everyone wants those things right? Don't you?
Goods news! Many tutoring software platforms are a great addition to the "lone wolf," or consultant. If you're a tutor who works for yourself and isn't affiliated with a tutoring company, you too can benefit from tutoring software.
There are 3 things you need to consider if you are thinking about using tutoring software or a business management software application, they are:
what types of business information do I need to collect and use? (client information, billing and invoicing, scheduling and appointment booking, finances and accounting, sales management, human resources)
who needs to access my business information? (me, staff, consultants, clients)
what's my budget? (what pricing seems fair based on the revenue I generate)
The type of information you collect will influence the type of tutoring software you use. This is a very important factor. It makes little sense to use a software platform that only helps you with client relations management when you also need help with scheduling and billing, or promoting critical thinking during tutoring. Right?
There's a lot of business management software out there that focuses on one (1) area of focus. For large companies; where there are departments with several employees, perhaps having different highly specialised software applications makes sense. However, tutoring companies, regardless of their size, benefit more from a single tutoring software application. Therefore, tutoring software and its features should incorporate all components of your business.
In the following sections we'll take a look at the necessary operational components of any tutoring business and highlight the advantages of using tutoring software.
SCHEDULING AND APPOINTMENT BOOKING
Schedule your appointments within the tutoring software and automate reminder e-mails to your tutors and clients. Remainder e-mails help cut down on cancellations and no-shows thereby increasing your business revenue and tutor satisfaction. Don't spend hours reminding your clients and tutors of their sessions. Instead focus on growing your business or increasing the quality of your service.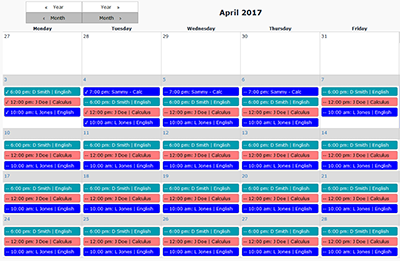 To decrease cancellations due to no-shows it is absolutely necessary to use text message reminders. Unfortunately, e-mail has its limitations.
Firstly, e-mail is so prevalent that it is often overlooking by students and parents. Since we're inundated by e-mail and e-mail spam on a daily basis, the likelihood of a tutoring session reminder going unseen is high. Secondly, it's not guaranteed a student or parent will have e-mails sent to their mobile phone. Therefore, e-mails may not be seen because the technology is unable to reach them.
On the other hand, mobile phones have become an extension of our bodies. Almost everyone, regardless of their socio-economic status has access to a mobile phone. That being said, why not use technology to make the most of your tutoring business? Do not neglect text messaging.
Tutoring software that is capable of sending text message reminders to your students and parents can actually make your business more money by reducing no-shows.
The best part of sending text reminders is that tutoring software automates this process for you to ensure all your clients are informed of pending sessions and you don't have to physically initiate the reminder yourself. Instead, you can focus on other business development activities.
INVOICING AND BILLING
There are three types of billing methods, they are:
Point-of-sale: making a payment after the delivery of service.
Pay-later: otherwise referred to as invoicing. Payment of services rendered occurs after delivery of service. Oftentimes, an invoice covers a number of sessions or sessions during a predetermined time interval.
Pay-in-advance: a payment is made before service delivery. This is often used to encompass a bundled number of tutoring sessions. When the session are delivered, a new payment is required to continue.
Tutoring software can use one or more of these billing methods. Before you use a tutoring software, make sure you understand how billing is conducted.
Tutoring software provides an excellent method for organizing your businesses account receivables. Without requiring the shuffling of papers, or communicating with clients or tutors, this information is tracked at the end of each session.
Automation can send billing e-mails and reminders and prompt clients with amounts owing to log in and make payments. After the payment is made by the client a receipt is generated and available for download. All of this is available with limited supervision by the business owner. This allows business owners to concentrate on more pressing concerns.
FINANCES AND ACCOUNTING
Come tax time no business owner will refute the importance of organizing the businesses expenses, revenues, and taxes. Not tracking these business components can have serious repercussions for the bottom line.
Tutoring software may not eliminate the stress involved in completing tax returns, but it can definitely ensure all possible tax deductions are considered and implemented.
It's a horrible feeling sitting in a seat next to your accountant when he or she asks if there are any other expenses and you know there are but you forgot to bring them.
ASSESSMENT AND REPORTING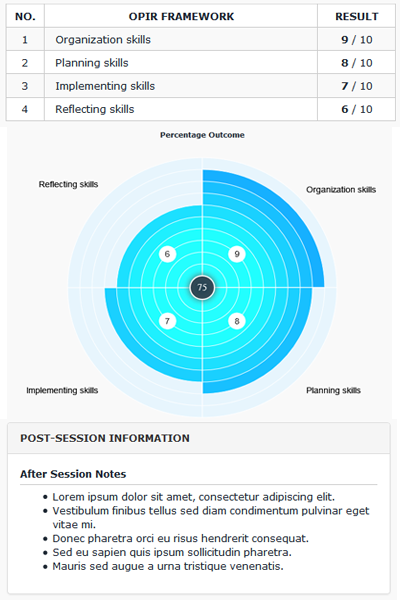 Finding tutoring software that implements robust assessment and reporting tools is difficult. Most platforms provide a text area for anecdotal observations. This is unfortunate. Assessment and reporting is an excellent way to communicate with clients the progress a student is making.
Make sure you research the type of assessment and reporting available within the tutoring software. Look for more than just a text field. The ideal scenario is tutoring software that allows you to customize the reporting methods. Look for the ability to save information from checkboxes or numbered intervals.
An example of a numbered interval is a question that asks to grade the student on a scale of 1 to 10. This type of reporting can be used to diagram improvements over time or visually interpret the results.
Clients love visual reports and they'll love your service more if you use them.
SALES MANAGEMENT
Sales management organizes correspondence with clients and increases conversions. You want to track your conversations with your clients, at times prepare quotes for them, and if you say you're going to do something for them, make sure you do it!
If the business has more than one operator, sales management becomes less efficient and inefficiency costs you money. In this way, sales management can aid the business team and its internal communication processes.
Ever had a client say, "I already told the other guy all of this. Don't you guys communicate with each other?" It's dreadful isn't it? What do you say? You can't be defensive because that might lead to a confrontation. You don't want to blow it off because that sends the impression that you don't care. What do you do? Apologize and confirm you did something wrong? None of those options are particularly pleasant. The best way to deal with this is to ensure it doesn't happen.
Tutoring software that has a sales management component will help your business prevent these types of conversations.
CLIENT MANAGEMENT
Client management refers to all the information you record related to a client. Information like the clients address and contact information, availability, account balance, and login credentials is stored.
Tutoring companies spend a considerable amount of time, in the beginning of the clients business cycle, pairing the client with a tutor based on the clients schedule, the tutors availability, the subject competency, and the location of sessions.
It's like playing a chess game against an opponent that is clearly better than you.
Making all entities content given the many variables takes time and without tutoring software capable of assisting, the process may take longer and the best pairing may not occur. Furthermore, tutoring software that provides these feature can help business owners be more proactive.
Gaps in availability, subject competency, and location can be identified long before a client requests for a service. When gaps are recognized the business owner can find additional tutors without the pressure caused by desperate and impatient clients. This has the effect of an increased perception of quality of service and hence increased revenue per client over time.
When selecting tutoring software make sure you consider how the application helps you pair students to tutors. We highly recommend you select a tutoring software application that has these filtering options. Otherwise, they won't help you organize your time efficiently.
HUMAN RESOURCES
Some think human resources are only required by large businesses. Not true! Regardless of the size of your tutoring company, you still need to track wages, make wage payments, and communicate with your staff.
Unless you are a 1 person business, you're going to want tutoring software that can manage human resources.
Have you ever forgotten to pay a tutor?
What happened?
I once hired a tutor that came to my business because of difficulties getting paid by another tutoring company. This tutor refused to do any more tutoring for the other company. Furthermore, one of that tutor's clients contacted me because they were unhappy with the lack of professional receipts offered by the other company.
That other company lost a tutor and a client. Both the tutor and client made me at least $1000 in profit. This happened because the tutor wasn't paid accurately and on time. I asked some questions and discovered the other tutoring company didn't use tutoring software. They relied upon timesheet cards to be filled out by the tutor and e-mailed to the company. Very inefficient!
No matter what tutoring software costs you, I can guarantee you there is a cost to not having a tutoring software application. Thankfully, the cost of using tutoring software can be as low as $10.00 a month. There's no good excuses for not having tutoring software for your business.
TUTORING SOFTWARE HANG UPS
Yes, there are hang ups preventing business owners from using tutoring software. Let's take a look at the hang ups.
security risk: storing your business data off site, with someone else, and on the internet has stigma attached to it. I don't blame anyone who thinks this is a risk. It is a risk, but so is having all your data in an office building that can be broken into, stolen by others, or lost due to fire or other damages. Tutoring software has security encryption and access control measures to ensure your business data is safe and secure.
data loss: business information is frequently backed up. In the event of data loss, tutoring software has the ability to restore data from backup faster and more efficiently than any other means. Moreover, as a business owner your expertise may not extend to the science of data backup. Allow others who have a lot more experience with backing up data handle that for you. Leverage the experience of others and focus on your strengths.
business closure: any company at any time can close for business. Review the terms and conditions for the software company, and make sure they have a plan for business closure or acquisition. After reading those sections, if you're happy with the procedure, put your mind at ease. If you aren't happy with what you find you can always look elsewhere. Don't let this stop you from realising the benefits of tutoring software.
cost: do your research. There are tutoring software applications out there that are very expensive. Competition is the saving grace for consumers. You have many choices to select from. You can find software platforms that charge over $100 USD per month. Some platforms charge you based on the number of staff you have or the number of clients you have. Some platforms charge a flat rate each month regardless of size. Look hard enough, and you'll find a tutoring software that meets your needs at a price that is agreeable.
Tutoring software provides a competitive advantage. Don't let your competitors get an advantage over you.
Are you likely to use tutor software for your tutoring company? Did we convince you? In the comments below, tell us why you are considering or aren't considering tutoring software for your business.