HOW TO TRANSITION YOUR LOCATION BASED SERVICES ONLINE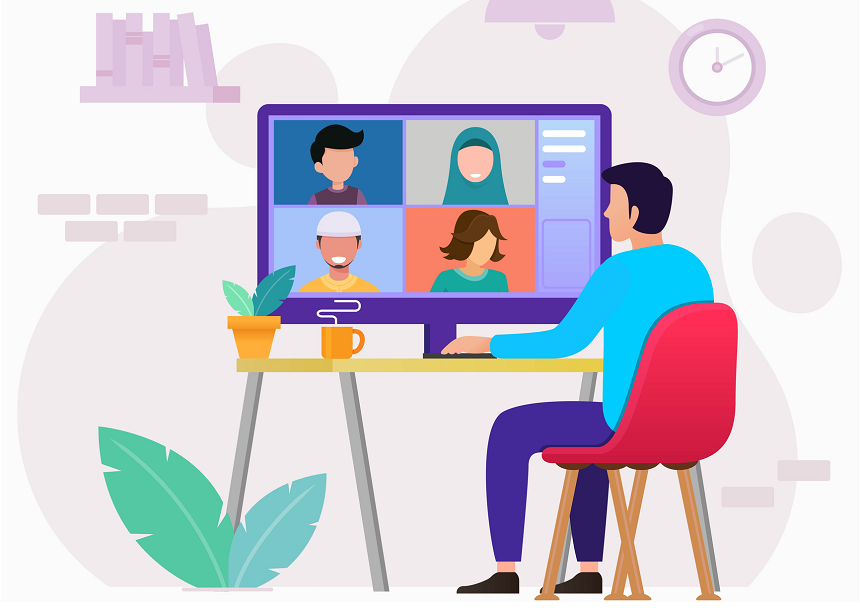 When the pandemic hit in 2020 a number of our clients who provided location based services experienced a decline in their revenues. Some of these businesses provide SAT preparation, ACT preparation, K-12 tutoring, therapy, and health care services. Fortunately, some of their services could be offered online. The following article reveals how you too can transition to an online format; who can do it, how to do it and the relative costs associated with the move.
WHO CAN TRANSITION TO ONLINE SERVICES
If you provide services that are information or wellness based you may be able to transition from a location based service offering to an online one.
Industries that can make this transition easily and effortlessly are:
SAT/ACT preparation
Legal services
Psychiatrists and councilors
Health practitioners like naturopathic doctors
In addition, many companies can adopt a hybrid approach to delivering their services. In the initial stages of on-boarding a client there may be opportunities to do conduct meetings using online software followed up with in-person communication if necessary.
If a hybrid approach is adopted the list of industries that can transition to an online format grows exponentially.
Change is usually hard. I get that. If you are debating whether you should make this step you probably should. As mentioned earlier, we've had several of our clients move a portion of their services to an online format and it has worked well for them. Some industries, like SAT/ACT preparation has moved exclusively to an online format. Without having made that move, those companies would not be operating today.
You might be pleasantly surprised how easy it is to move your location based services to an online format. Let's discus the how-to in the next section.
As of August 2023 the transition to online formats have increased. Now, within the education and tutoring spaces in particular, on-demand tutoring is growing in popularity. Shifting to online services is a must based on client demand and expectations.
HOW TO MOVE YOUR SERVICE OFFERING FROM IN-PERSON TO ONLINE
We recommend you ease your way into online services. Don't totally abandon your current business model, instead add to it and see how it goes. This pandemic isn't likely to stay forever and if it does we're not likely to remain locked down indefinitely. This will pass.
No matter what your business structure looks like; if you use spreadsheets or business management software, you're going to have to choose meeting software that you are comfortable with. There are a number of choices available on the market, for example: ZOOM, Google Meet and Microsoft Teams.
All of these online meeting companies have their own unique way to connect to meetings, share screens and access whiteboards. The costs vary and we'll discuss that in the next section.
Overall, many meeting software platforms allow you to share a link, otherwise known as a personal meeting ID with your customers and connection is established between participants in that way. This is probably the easiest way to implement online services for your business.
Share a link with your customer and start rendering your services. Easy right?
Not always.
The problem you may come across is the shear time and energy you will have to spend making sure everyone has their links. That's where our business software can help.
If you used software like Bizstim you can easily store meeting links and pass them out via email or text message using automated processes. You simply set and forget. This gives you more time to focus on customer care and quality control.
Here's an image of what your clients see when they receive an email or text message notification. Notice the personal meeting ID is provided as a clickable link. When the client clicks on the link for the meeting they are automatically connected to the online meeting. You also have full control over the text in the notifications.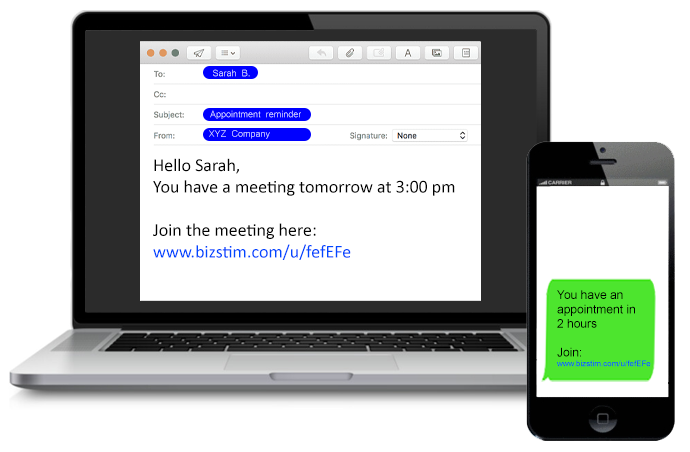 WHAT ARE THE COSTS OF MOVING YOUR SERVICES ONLINE?
We've taken the time to do the research on cost for you. Take a look at the following pricing tables below. In order of appearance you can review the pricing for Zoom, Google Meet and Microsoft Teams.
All of the companies listed here have free options. The best option to date is Google Meet. Google Meet has a free option for unlimited 1 on 1 meetings and group meetings up to an hour in duration.
Microsoft Teams is similar to Google Meet but it has a higher cost per user per month if you decide to upgrade to a paid subscription.
You also need to take into consideration which online meeting platform has greater user acceptance. This means you need to determine which one of the above listed platforms your staff and customers would find the easiest to use.
If you were to choose based on this factor ZOOM would probably be a good option. Since the pandemic ZOOM has almost universal acceptance and you would be hard pressed to find anyone who does not know how to navigate it.
On the other hand, many users use Google products and are familiar with their look, feel, and functionality. I spoke to one of our clients just the other day and they preferred Google Meets for the reason mentioned above.
Either way, you can't go wrong with any of these three choices.
Are you looking at transitioning to an online format for your service based business? If you are, what meeting platform will you choose? What was the main factor for you in selecting a meeting platform?